We produce custom made trilaminated drysuits, wings and diving accessories for the international diving market.
Our products are made with our own development based on our two decade-long diving experience.
Everyone is different, every need is different, so we take care of our customers' special requests, when making their gear, having the above and below water experience more fun.
Quality. Innovation. DiveLabs.
Dive-Labs manufactures premium quality custom made trilaminated drysuits, wings and accessories that fulfill the special requirements of recreational, technical and cave divers as well.
There is nothing like the experience of scuba diving and the sight of the underwater world. We hope that seeing our pictures will want more people to try this fantastic sport.
Get in contact with us, if you are interested in professional drysuits, would like to get repaired your drysuit or looking for a Dive Labs wing or other diving equipment and accessories.
Anita
" I'm absolutely satisfied with my drysuit. It's comfortable, durable, user friendly, seams are stable, no leakage and has long life! I've got it for 3 years now, 10 points! :)"
András
"After buying my drysuit, I knew this was the quality equipment I need. I was looking forward to what comes next. Soon after they came up with the wings and LED torches. I've tested the single and double wings among the first divers, and I must admit I didn't give any of them back. Doesn't matter where I dive, my equipment suit all my demands, whether it's fun or technical diving."
Predrag
"If you plan to go to cold water or technical diving, then dry suit and wing type BCD is a must. But if you want to fully enjoy yourself, then my advice is "Dive Labs" with its products, service and customer support. There is no single thing that those guys (*and girl J) wouldn't do to help you, no matter where you are. Using their products for some years now, has been a privilege and pleasure."
Tamás
"After trying many products of several manufacturers, finally, in 2013 I received the very first drysuit of mine form Dive Labs. Since then, my suit has been doing its job perfectly everywhere from the sea to the mines and wrecks. It's comfortable and looks good. I recommend it to everyone!"
Cziner Gábor, Tokodi Margaréta
"A few years after I'd gotten to know the DIR philosophy, it was only a matter of time when I step forward from leisure diving milieu and revaluate my equipment configuration. Thanks for my then "advisers", I got to know Robert John, the developer of Dive Labs. With his help, today we are happy owners of two Dive Labs drysuit with my wife. Apart from the warm seas, we only dive in these suits ( Adriatic Sea, Kobanya Mine, Grünersee, Varpalota Bunker etc…) These suits performs very well, I cannot compare the comfort to anything else. What can be more important than reliability and feeling free during diving? Dive Labs suits offer these, that's why we decided on them. Gábor Cziner, Margareta Tokodi."
Horváth Zoli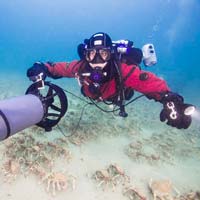 "I bought my custom made drysuit three years ago from Dive Labs. I've been very pleased with it since the first moment. Even diving weekly, it's perfectly dry. I've been using it in salty water for a year and a half. With washing the suit in fresh water, there is no visible sign of usage at all. The suit performed excellently during technical courses in the sea as well as on cave courses in fresh water, it never leaked! I recommend it to everyone who's planning to buy a drysuit!"
Géza
"I'd like to thank you for your great products. I've been using drysuits since 1987, for commercial and recreational diving as well. At the start of your business, Robi convinced me to order a suit made of 450 fabric, equipped with all the extras. As I was so satisfied with it, a few years later I ordered another custom made drysuit, made of extra light breathable fabric, designed especially for travelling by plane. Many people envy me, and I hope you will sell a lot if this type.
My next suit will also be Dive Labs!"
Jenei Zoli
"After almost 2 decades of diving, I've tried many drysuits. The standard sizes didn't give the comfort and freedom of moving, so I decided to order a made to measure drysuit. Some of my instructor colleagues who use Dive Labs drysuit on a daily basis were very pleased, and recommended Dive Labs to me. The customer care and contact were fast and easy, I felt the professional approach and helpfulness. I live abroad, so they made my drysuit according to a detailed measure guide I filled in with. The first time I put on, I could feel the benefits of the custom made drysuit. During diving, the comfort, the great quality fabric convinced me that Dive Labs suit represent high quality. I'm completely satisfied and I recommend Dive Labs!"
Budai Attila

I've been diving for many years, mostly in drysuit. First, I bought one of the biggest manufacturer's suits with "lifetime warranty". I'd been using it for some years without any problems, and then I noticed that the fabric layers started coming apart. I didn't panic, because I had a lifetime warranty, I thought they will replace it. They did not replace it. They meant some drops of glue are lifetime warranty. I was very angry, but later I realised I was lucky in the end by ordering a Dive Labs suit. I had a few colleagues who used Dive Labs suits already and they only said nice things about their products. So, I decided to order one. During taking the measures, we discussed the pockets, colours, embroideries, reinforcements, it all went smoothly. On the day the suit was ready, I tried on. Putting the suit on and moving around was a lot easier than my old suit, as the fabric is a lot lighter. I liked it immediately! During diving the suit gave a lot more freedom of moving, comfortable and light to wear. I recommend Dive Labs suits to everyone who wants to buy one. Excellent quality! Attila Budai – Instructor